Formal Diachronic Semantics 2 will take place at:
Saarland University
Campus Saarbrücken
Building C 9.3 – 'Jägerheim'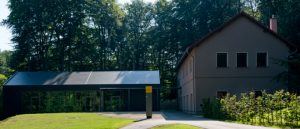 Main Campus is nestled in the woody outskirts of Saarbrücken, the capital of the Saarland. Saarbrücken lies in the German south-west, a tri-border region, where Luxembourg and French Lorraine converge with Germany.
The conference itself will take place in building C9.3 'Jägerheim' on campus, as pictured above.
Getting to the conference venue 'Jägerheim/Graduate Center' from the city center:
The best way to reach campus (without a car) is by bus.  The rates are: Single one way ticket €2,60 and €4,80 for a day pass. You can see the rates on the website by following this link. Please be aware the website is only in German/French.  
From the stop 'Rathaus' (Town Hall) you should take the 101,102,109,111, or 150 to the stop 'Universität Campus' University Campus'. From there you can follow the directions with this map of campus.
Travel Information:
You can reach the conference venue by flying to either Luxembourg, Frankfurt or Paris:
From Luxembourg (LUX) Findel airport – From the airport a quick 20 min bus ride to the the main station, then a 1-hour bus ride from the Gare centrale with the Saarbrücken express bus.
From Frankfurt (FRA) – You can either take the Regional Express (RE) train from the Regionalbahnhof (regional train station) or  the ICE at the Fernbahnhof to Mannheim and then Mannheim to Saarbrücken. 
From Paris (CDG) – You should take the RER B train to the Gare du Nord. From here it's a short walk to Paris Est where you can take the TGV or ICE directly to Saarbrücken main station.